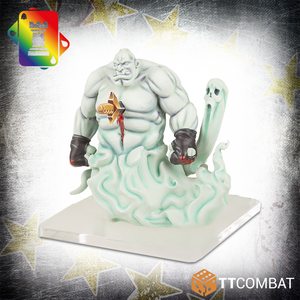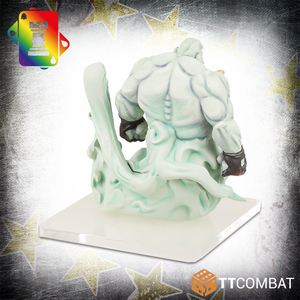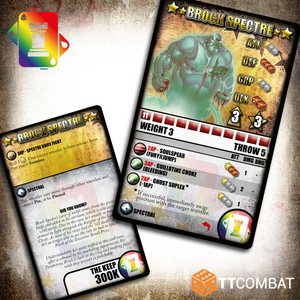 Brock Spectre's curse of unlife comes from the giant knife embedded in his sternum, which is also cursed with unlife. Due to the curse he's unable to posess armour to fight alongside the Knights of the Squared Circle. As most of the vows had the "till death" clause, he's no longer able to use the title he had in life, Sir Brock of the Excessive Bench Press.
A weight 3 ghost, something you don't see everyday. Brock Spectre is a Superstar between life and death, but even in that limbo he is a mighty wrestler non the less. A respectable statline that focuses on quantity over quality, with 3 out of the 4 stats rocking 3 dice with a rainbow of colours. 
The Soulspear rope attack has jump and fury, this means Brock chooses who's gonna be struck, he then follows it up with a bloody fisted Brawl attack. Brock comes with not one but two Grapple abilities, the first is the Guillotine Choke, a base damage of 2 and Bleeding means the damage will linger on. The Ghost Suplex is his second Grapple ability, this move gives the enemy wrestler -AP and Brock swaps position with the target wrestler.
Spectral means that Brock cannot be pinned however he cannot pin enemy wrestlers, not much physical touch through being a ghost. Brock's Crowd Please is questionable in the rules of wrestling as he makes use of the knife in his chest, in a Spectre Knife Fight. This removes a gold Stamina to one enemy wrestler.
Contains 1 resin multi-part miniature with square acrylic base.

Resin miniature supplied unpainted and unassembled. This kit will require cleaning and assembly, and could need some small holes filled. Note that clear acrylic bases have a peelable protective film. Miniatures supplied with square bases.