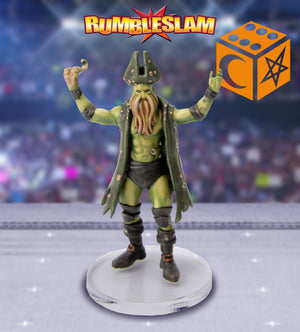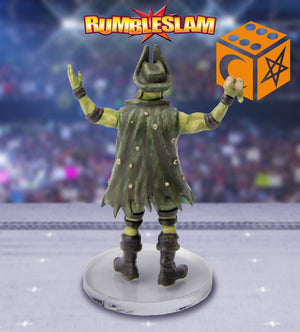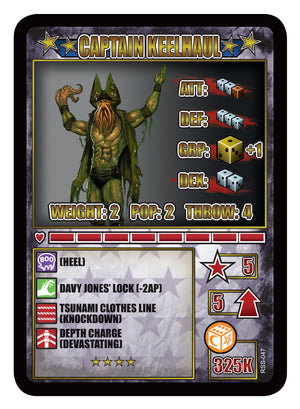 "Throughout the centuries countless pirates and brigands have earned foul reputations plundering goods and pillaging as they pleased. Perhaps the greatest pirate to ever have lived, Captain Keelhaul is a name still feared on the high seas. For twenty years he sailed the untameable ocean and amassed a fortune few can even dream of. He had it all; power, respect and wealth. Yet, it was never enough. No amount of gold could satiate his desires for fame and fortune. It was upon seeing a strange poster pinned to the merchant's quarters that he realised his dreams could be met in the RUMBLESLAM ring."
A squid monster pirate in pants? Yep, that's Captain Keelhaul!
With lots of Silver dice to throw around, and a colossal 5AP and 5MP, Captain Keelhaul can hold his own, no problem! With Knockdown and Devastating making up his special abilities, he's an extremely useful wrestler to have in your roster. And Davy Jones' Lock is one of the best named moves in the game.
If you play Rolling Bones, Captain Keelhaul will be right at home, but he suits any team that could use some really useful skills and a Weight 2 wrestler that is blindingly fast!
Resin miniature supplied unpainted and unassembled with a unique character profile card and clear acrylic base. Note that clear acrylic bases may have a coloured peelable protective film. Miniatures supplied with square bases.