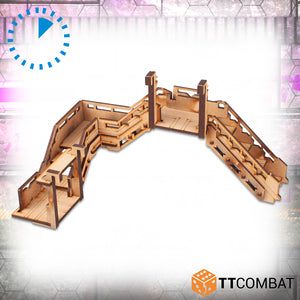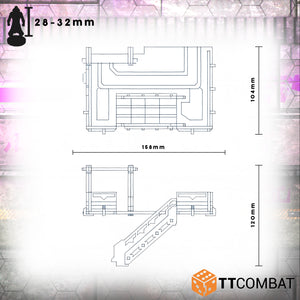 Cashstacks: Fire Escape & Helix Stairs
"Sometimes it really is just like reading straight from a catalogue"
While we strive to make the C.A.S.Hstack Blocks as fire-proof as possible, accidents
do happen and sometimes you need to make a quick exit. When the lifts are down you can rely on the C.A.S.Hstack Fire Escape to provide a safe and enjoyable route to safety! Connect one to your Cashstack Block today!

Spiralling gracefully around a stack of Junctions, the C.A.S.Hstack Helix Staircase
exudes style on every level and tells everyone watching that yes, you may be using
your legs but damn, don't you know how to look good doing it. Add style and function to your Junctions.

This kit is made from 3mm MDF. It is a great scenery kit to use in Sci-Fi skirmish games, will work perfectly with 28-32mm games and miniatures, and look great on any Sci-Fi inspired game board.

Model supplied unpainted and requires assembly. We advise using PVA glue for the best results. Some kits may need filing for a perfect fit - always dry fit your models first for best results. Any miniatures are for scale only and are not included.