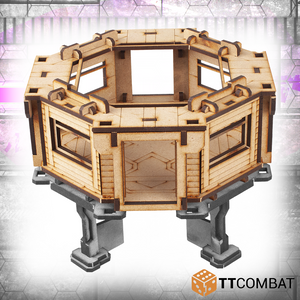 "There are many pathways, but only one you need. Choose wisely, for death awaits."
Got a sprawling collection of blocks? You need to connect them all together and the Junction is the kit for you! With 4 entry/exits you can create a mass-connected network suitable for all your needs. Connect with the Junction Plinth and you can expand across all levels. 
The Cashstack Junction can be stacked with other junctions and junction plinths. Using walkways it can be linked to other blocks, junctions, or demi blocks with the Cashstack Range.
The Cashstacks Junction kit is made from 3mm MDF. It is a great scenery kit to use in Sci-Fi skirmish games, will work perfectly with 28-32mm games and miniatures, and look great on any Sci-Fi inspired game board.
Model supplied unpainted and requires assembly. We advise using PVA glue for the best results. Some kits may need filing for a perfect fit - always dry fit your models first for best results. Any miniatures are for scale only and are not included.