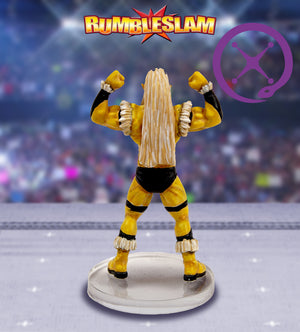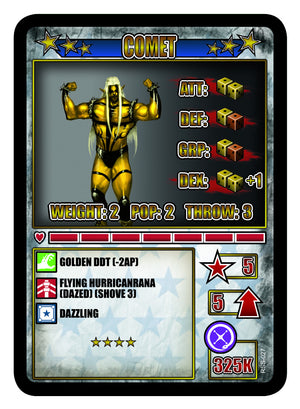 "Comet is an enigma wrapped in mystery and perversion. Known by many as the strangest wrestler to enter the ring, this painted elf has exhibited some very strange tendencies over the years. Whether it is admiring himself in the ring, or tracing out the blackened lines of his skin-tight suit, he has surprised and chilled many a wrestler and viewer. In interviews, he has shown a definite lack of personal space and social norms. His face is meticulously painted each day, and the ritual of brushing his hair sixteen times before a match is never missed. Comet seems to love his body and appearance more than anything, and should his opponent smear his paint, they had better be ready for pain."

Wow. Just look at that stat card. Seriously. Umm... I don't know what else to say. So. Much. Gold.

Comet is a great Superstar for... well... anyone really. Seriously. Wow.

Resin miniature supplied unpainted and unassembled with a unique character profile card and clear acrylic base. Note that clear acrylic bases may have a coloured peelable protective film. Miniatures supplied with square bases.