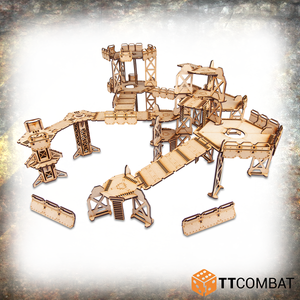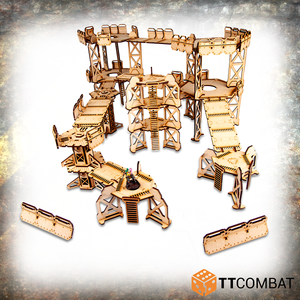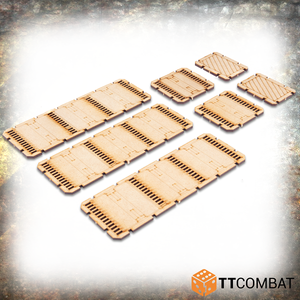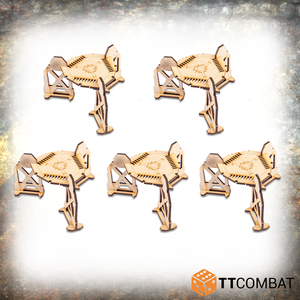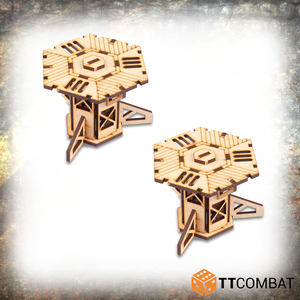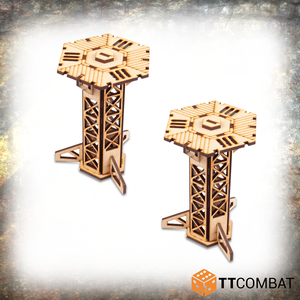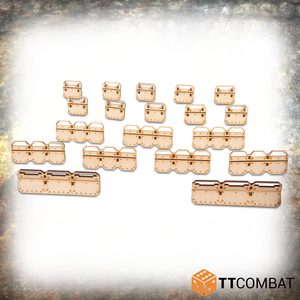 Angled platforms create a web of interweaving metal, perhaps more so than their square counterparts.
This set of platforms and gantries are designed to be compatible with a popular gang based skirmish game. The alpha complex starts your hive board off right with a more angular construction that traditional square platforms giving you more construction options, especially when added to other kits in the range.
All Industrial Hive kits are designed to work together, utilising an innovate clip system to enable every piece to attach to another. Using the in-built modularity you can attach stairs to walkways to platforms to offices to pipes to silos to walls all in a continuous mass of metal (well, MDF) to create literally billions of different board layouts. All this modularity will make your games in the sprawling Industrial Hive more fun than ever.
This kit includes 4 large platforms and 5 smaller ones with connectors on all sides. Also included are; 2 large towers, 2 small towers, 4 walkways and 6 smaller walkways.
This kit is made from 3mm MDF and has been designed for sprawling games of 28-32mm gang warfare set in a dense jungle of machinery.
Model supplied unpainted and requires assembly. We advise using PVA glue for the best results. Any miniatures are for scale only and not included.
WIDTH
DEPTH
HEIGHT
Large Platform
16.5cm
16.5cm
12cm
Small

Platform

8cm
8.5cm
6cm
Large Tower

8

cm

8

cm

12cm

Small Tower

8

cm

8

cm

6cm

Scale
28-32mm
Instructions
Download