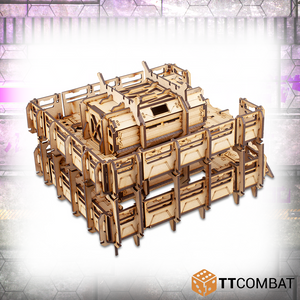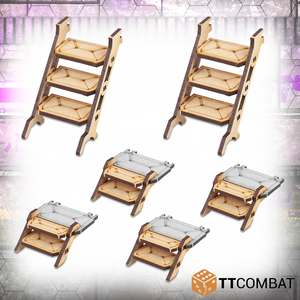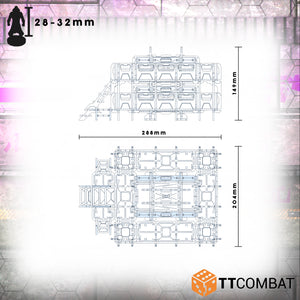 "Look there was too many space rats, I needed more room ok"
Airdrop them into your frontline bases for your soldiers' comfort, it's better than a tent! P.U.Ps can be stacked as high as you like, and can be combined with the modular walkway system for limitless setups!  The roof and doors are also removable for gameplay purposes. 

This kit contains parts to make either a stackable variation as shown or two single story buildings joinable with the included walkways. It can be attached to existing P.U.P kits with these parts. 
Kit Contains:
56x Low Fence Supports
36x High Fence supports
16x Small Fences
8x Long Fences
4x Medium Fences
8x Corners
6x Long straights
6x Medium straights
4x small stairs
2x Tall Stairs
2x P.U.P

The Dual P.U.P w/Walkway Kit is made from 3mm MDF . It is a great scenery kit to use in Sci-Fi skirmish games, will work perfectly with 28-32mm games and miniatures, and look great on any Sci-Fi inspired game board.

Model supplied unpainted and requires assembly. We advise using PVA glue for the best results. Some kits may need filing for a perfect fit - always dry fit your models first for best results. Any miniatures are for scale only and are not included.