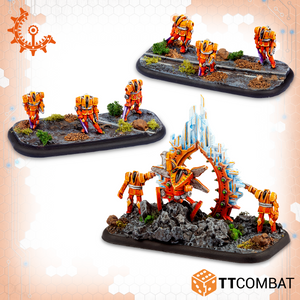 With the promise of eternal life if not killed first, the ancient Shaltari can end up fearing death more than any other race. The more times a consciousness is transferred, the more wary a Shaltari can become, which is both a good and a bad thing for a commander. Increased knowledge of tactics and aversion to sacrificing life is a definite positive, but lack of impetus can lead to stagnated battleplans.

Very rarely a younger Shaltari will climb quickly through the ranks, their foolhardiness paying off and shaking up tactics. Shaltari Firstborns that achieve the command of an army will frequently want to take the fight to the enemy, and the Daimyo battlesuit is a chassis that aids those plans.

A personal suit larger than most warsuits but not as large as a Ronin, the Daimyo can accompany troops in building clearing. With a bodyguard of warsuits, the three are armed with Web Projectors which coat their target in a temporary teleport web and produce a short-ranged teleport "shunt", often used for ejecting enemy troops from buildings to make them vulnerable to anti-infantry fire.

While quick to get into battle, a young Shaltari commander is not reckless, and the Daimyo's bodyguards use nanobot technology to construct a personal Gate, able to teleport away at a moment's notice, taking any retinue with them. The Gate isn't powerful enough for much more though, and will disintegrate after use or if a foolhardy Brave tries to bring larger objects through.
 The Daimyo Battlesuit is a very different Commander choice for Shaltari players. While usually focused on keeping their Commanders as safe as possible in heavier chassis like the Coyote or Frostdrake, the Daimyo provides a lightning fast, up close and personal sort of command choice, perfect for smaller games.
And this is one unit that will prove to be the annoyance of all your opponents! With the ability to teleport enemy squads outside of the Garrison they're in, the Daimyo will be a real thorn in the side of enemy infantry. But before they can retaliate, the Daimyo can simply slip into a Gate and teleport away. Make sure you have lots of Haven Terragates to help it re-emerge and pull the same stunt next round too!
The Daimyo is accompanied by two units of Firstborns, which the commander can join at the start of the game. This is one close combat squad your opponents won't want to mess with!
Contains one multi-part resin Daimyo and two multi-part resin Firstborn units. All units come with plastic bases.
Resin miniatures supplied unpainted and unassembled. This kit will require cleaning and assembly, and could need some small holes filled.