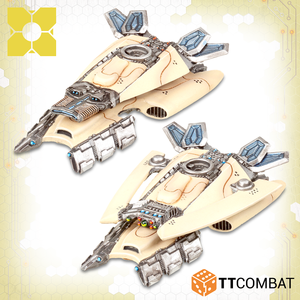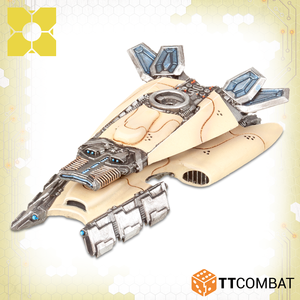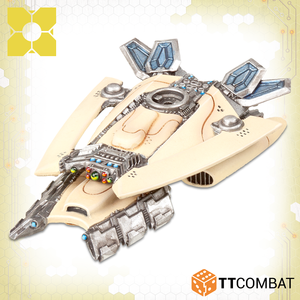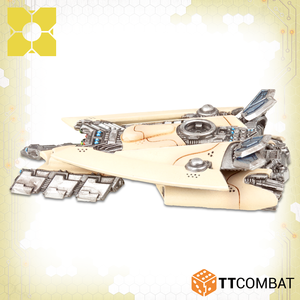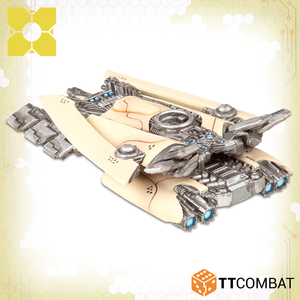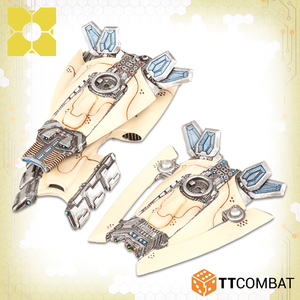 The Jetskimmer-AV program is a test bed for new technologies. The Diana's Molecular Agitator is a directed energy weapon with a twist: multiple units can feed power via the weapon into a single shooter's Collector Vanes, enhancing an already potent destructive potential. Meanwhile the Aurora offers commanders a unique proposition: to grant, enhance or negate a squad's energy shielding. Operating in fast-moving pairs, light protection may be conferred to two squads or focused via a single Aurora's Collector Vanes into a single squad for greater protection.
The Diana Jetskimmer is a Standard choice in a PHR army, offering fast-moving anti-tank capabilities. While not as reliable as a good, old-fashioned Railgun, the Molecular Agitator is greater than the sum of its parts, using multiple vehicles to add together their strength to deal with the toughest foes. The Auroroa Jetskimmer is a Support choice, and gives some much-valued Passive saves. Increasing a unit's Passive is one thing, but stripping away an opponent's is Shaltari levels of mischief.
Contains 2 multi-part resin miniatures with parts to make both as Diana or Aurora Jetskimmers.
Resin miniatures supplied unpainted and unassembled. This kit will require cleaning and assembly, and could need some small holes filled. Any miniatures or scenery are shown for scale only and not included.