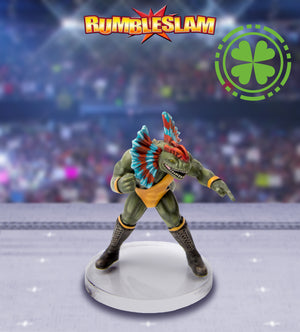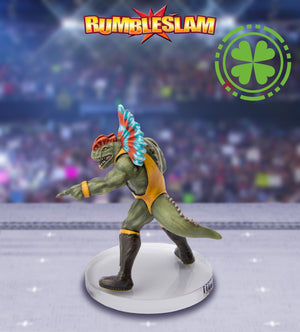 "This pint-sized lizard is a reasonably new addition to The Forest Soul's roster though his fan base might lead you to believe otherwise. The scaly superstar exudes confidence and moves about the ring with the grace and demeanour of a king. Despite his small size Dilomite Kid is an exceptionally skilled fighter who uses his deadly speed for devastating results, and has a penchant for spitting. He claims it is an honour he grants to those select few he must defeat at all costs."
Dilomite Kid is my favourite name out of all of our Superstars!
He's quick, he's fragile, and he's got one of the only long-ranged attacks in the game! Spit Attack hits an opponent within 5 squares with the Dazed special rule, and – if you get your Crowd Pleaser off – does 1 Damage and causes Bleeding too! That's one dangerous little dino!
Dilomite Kid is right at home with his fellow Cold Bloods, but as a Forest Soul wrestler, would work well with The Timber Fists too. Or any team that could use a nippy, cheap Superstar with some devious tricks up his sleeve!
Resin miniature supplied unpainted and unassembled with a unique character profile card and clear acrylic base. Note that clear acrylic bases may have a coloured peelable protective film. Miniatures supplied with square bases.