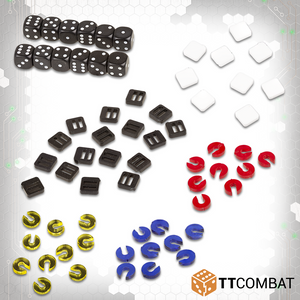 Dropfleet Commander Token Set
"Who are we fighting Admiral, there are enemies on all sides, what should we do?"....."I don't know, crewman... Check our tokens."
This set contains a bunch of useful tokens for playing games of Dropfleet Commander.
Low Orbit and Atmosphere tokens in black and white can be used to keep track of which orbital layer your ships are occupying.

A set of markers for Silent Running, Minor Spikes, and Major Spikes in blue, yellow, and red can be slotted around the stem of a ship to clearly show what sort of signature changes a ship is affected by.

Finally this set contains a handful of black dice for tracking damage, launch asset sizes, or VP's.

This set contains 27 signature markers in 3 different colours, 18 Low Orbit markers, 9 Atmosphere markers, and 12 black dice.

Acrylic supplied unassembled. This kit will require cleaning and assembly, and there may be some small variations from those shown.