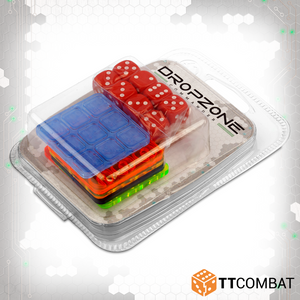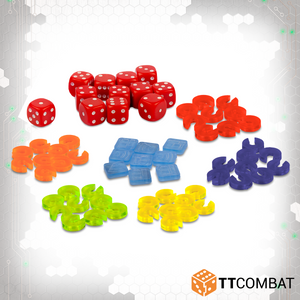 Dropzone Commander Token Set
The battlefields of the 27th Century are varied places, and with dropships flying past, buildings falling down, and massive walking war engines striding through, it takes a great commander to execute their plans in the heat of the moment.

This set contains a bunch of useful tokens for paying games of Dropzone Commander.
Scan tokens and Reaction Fire tokens make keeping track of your actions easier than ever, showing which units have performed useful shooting or scanning for objectives.
The Battlegroup activation markers meanwhile are great for not only seeing which Battlegroups have activated, but also for identifying different Battlegroups. With five colours per pack, you'll be able to rearrange your Battlegroups on the fly before each game begins, and use your Auxiliary units in different groups depending on the situation.
Finally, the set contains a set of red dice which are ideal for counting Collateral Damage tokens on each building, simply counting up as the scenery piece sets on fire or starts falling down!
This set contains 45 acrylic Battlegroup activation markers in 5 colours, 5 acrylic Reaction Fire tokens, 4 acrylic Scan Tokens, and 12 red dice.
Acrylic supplied unassembled. This kit will require cleaning and assembly, and there may be some small variations from those shown.