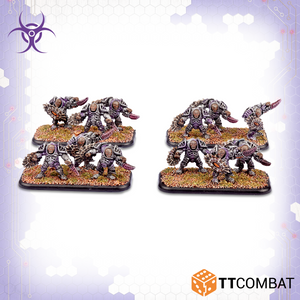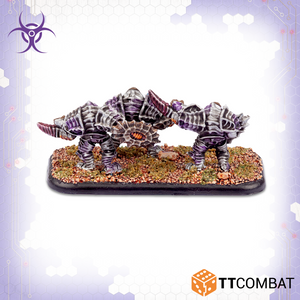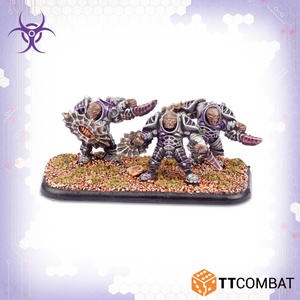 Eviscerator Assault Troops
While "ordinary" Scourge Demolishers are brutal and dreaded opponents in CQB, Eviscerators are truly terrifying. With the Scourge parasites losing their grip on the host, they lash out in a crazed rage, becoming almost unstoppable.
Straight up, the Eviscerator Assault Troops are some of the best in the game. With Armour 9, Resilient, and a 4+ Passive save, they're tough as boots. Add to that the literal Tough rule which re-rolls Collateral Damage and allows them to enter Garrisons from any direction, and you have a squad that isn't going anywhere anytime soon. And that's a big problem for your opponents, because their glaives can tear through light troops or heavy troops with absolute ease.

Contains 12 single-piece resin miniatures with 4 plastic bases to make 4 units.
Resin miniatures supplied unpainted and unassembled. This kit will require cleaning and assembly, and could need some small holes filled. Any miniatures or scenery are shown for scale only and not included.