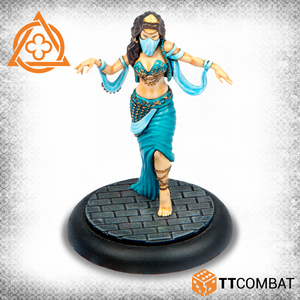 A mysterious woman from far off lands, Fadhila keeps her private life exactly that. While she is the very life of parties (parties she's paid to attend), her history and true self are reserved for only her closest confidantes. Unlike her powers! Projecting protective bubbles she is able to shield those close to her from harm, and is always keen to show off her gifts.
This set contains Fadhila, a Gifted for hire. While Fadhila lacks in the offensive department, her Protective Bubble is able to offer excellent protection to any within range (just keep her away from enemies). She is also a talented Mage, controlling or healing as you might see fit.
Fadhila is a Gifted character, which means she can join the Commedia dell'Arte to make a full gang. But as a Gifted, she can also be taken in any other faction, providing superlative protection to any who employ her.
Contains 1 resin miniatures and 1 plastic base. Cobblestone base pictured not included.
Resin miniatures supplied unpainted and unassembled. This kit will require cleaning and assembly, and could need some small holes filled.