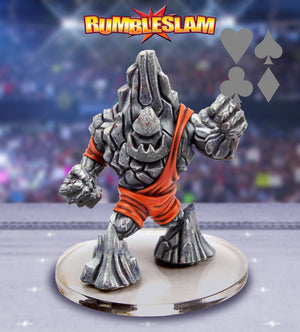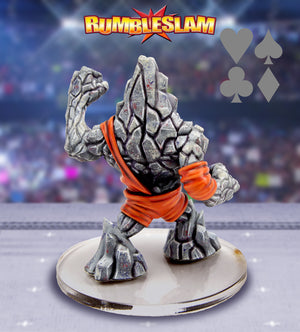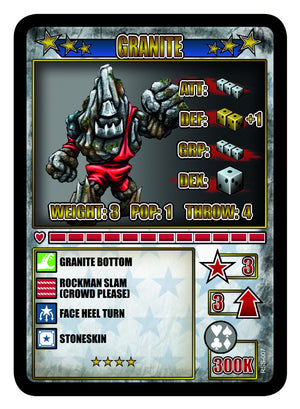 "This resilient superstar has it all; power, toughness, size, charisma... There are few wrestlers in the ring that can match a natural charm and presence which have enthralled and captivated the hearts of countless viewers. He's even been known to break the rules to deliver a better show for his adoring fans. If he sees that the crowd is getting bored, he'll perform a dirty move, or kick an opponent when they're down. Cheers or boos, he only wants to entertain, as that's the only way to fill the seats of the arena!"
With one of the best Defence stats in the game, you know Granite is tough to deal with. Combined with his Stoneskin Passive Ability he's almost entirely impervious to Brawl attacks.
His real draw is the Face Heel Turn Passive Ability though. Granite can choose each turn to be a face or a heel, gaining a stat boost to go along with it. That gives him a lot of flexibility, starting off as a face and getting extra attack power, then finishing the match as a Heel when it's time to throw the opponent out. Or you can go for a Crowd Pleaser to have your cake an eat it too! If successful in wooing the crowd, Granite may choose both choices, gaining extra attack and grapple, and getting the HEEL special rule too! Now that's a walking mountain with flexibility!
Granite the Free Agent is indeed free to join any casino without affecting Sponsorship Bonuses. He could team up very well with the Golem from a Runic Thunder team (double the Stoneskin!), or could join in with The Cold Bloods for a little one-man flexibility that can hold his own without relying too heavily on the rest of the lizards for support.
Resin miniature supplied unpainted and unassembled with a unique character profile card and clear acrylic base. Note that clear acrylic bases may have a coloured peelable protective film. Miniatures supplied with square bases.