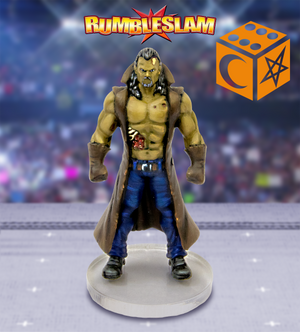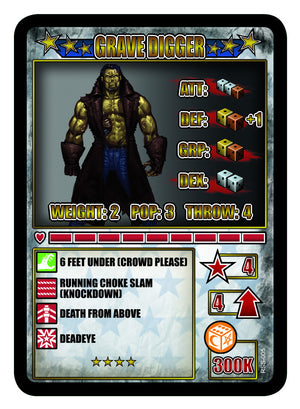 "Little is known about The Grave Digger. He has declined all interviews and questions to date. Who was he before his death? How did he come to be undead? Many have asked and yet none have received more than a chilling glare from the towering giant of a superstar. An enigma both in and out of the ring, The undead superstar has amassed a cult following who worship his every match and claim he is the chosen one."

Want to play one of the most recognised wrestlers in all of RUMBLESLAM? Grave Digger is strong, tough, and surprisingly quick. Get a Crowd Pleaser off and he can do quite a lot of attacks in one turn, and his Deadeye ability stops enemy wrestlers from moving!

Grave Digger is a Rolling Bones superstar, and fits perfectly alongside The Cryptborn Nightmares.

Resin miniature supplied unpainted and unassembled with a unique character profile card and clear acrylic base. Note that clear acrylic bases may have a coloured peelable protective film. Miniatures supplied with square bases.