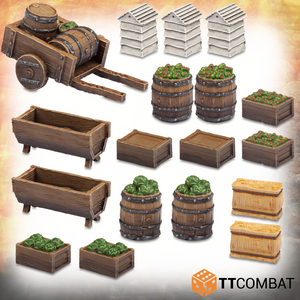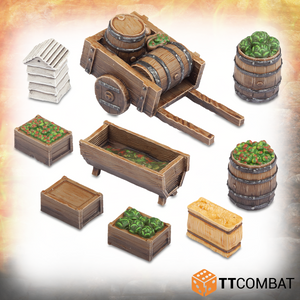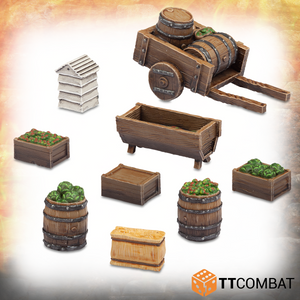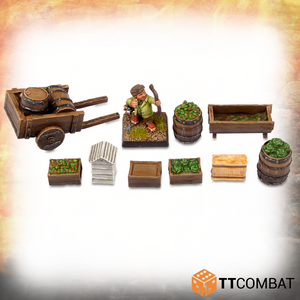 Chapter 7

The Halfling drummer Tobias Tubthumper was running full pelt. He'd heard something in the Graveyard, and didn't want any of it. As he fled he was sure that there were shadows in the corners of the tombs that were coming for him. A strange sight, particularly considering the bright, sunny morning outside the walls of the Graveyard.

He was panicking, and there was no point in trying to hide it. He could barely see where he was going - maybe through fear, or maybe through sheer hunger - and smashed right into something.

He flipped over and landed on his back, apples, cabbages and other produce falling everywhere. He'd hit a cart full of goodies! The merchant pulling the cart was understandably angry, and even before he knew what was going on, Tobias was being chased off. He snagged a cabbage on his way and ran.
What Halfling village is complete without plenty of food?
This set contains loads of delicious veggies, as well as a cart to haul them around in. But this merchant doesn't just sell food, as there is hay and even some hand-crafted beehives too.
The set contains one cart, three beehives, and two of everything else (cabbage barrels, apple barrels, cabbage boxes, apple boxes, hay bales, closed crates, and troughs).
Resin miniatures supplied unpainted and unassembled. This kit will require cleaning and assembly, and could need some small holes filled. Any miniatures are for scale only and not included.