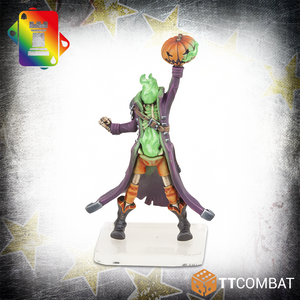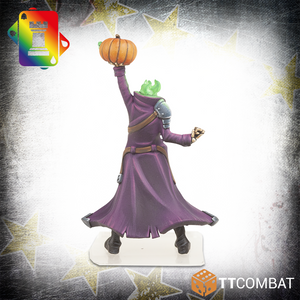 Hollow Gourdo always has a glowing presence about him, it may be the bright burning spectre engulfing the undead bones of this headless knight, feared among all when that green glow fills the ring...or he's just recently had a great match, always hard to tell.
This Headless wrestler comes in at a cheap price of 200k, making him one of the cheapest superstars in the game. This lower price can be seen in the wrestlers statline, but don't let that fool you. Lantern Lariat is a solid Rope ability with a gold and silver as well as 2 Damage, but the real strength comes from the Knockdown which can threaten any wrestler that is struck by it. The Vertebreaker is Gourdo's Grapple ability that gives out -AP to enemy wrestlers.
Hollow Gourdo's strengths comes from his active and choice abilities. Flames of the Dead has two options, Blight means nearby enemy wrestlers can only activate crowd pleasers on a Blank result, making even crowd favourites hugely unpopular. Alternatively, he can use Might, this gives Undead to friendly wrestlers, raising KO'd wrestlers from the canvas. This ghostly Heel's Crowd Pleaser, Spectrestep, allows this wrestler to be placed anywhere in the ring, landing a Surprise Turnbuckle attack on some unfortunate soul.
Contains 1 resin multi-part miniature with square acrylic base.

Resin miniature supplied unpainted and unassembled. This kit will require cleaning and assembly, and could need some small holes filled. Note that clear acrylic bases have a peelable protective film. Miniatures supplied with square bases.