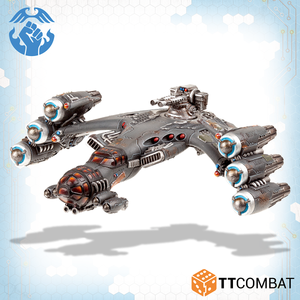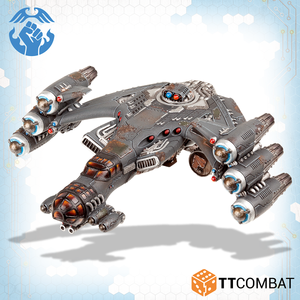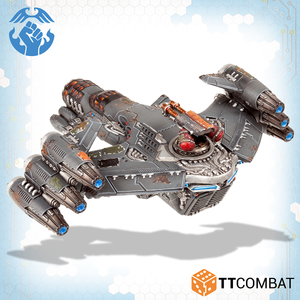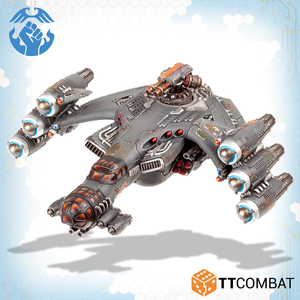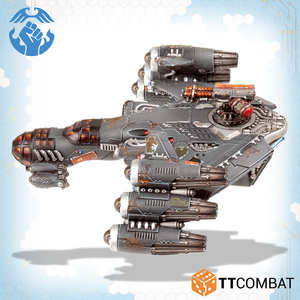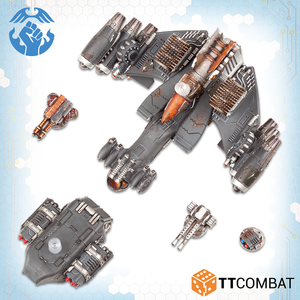 The AT-77 Lifthawk was the ubiquitous pre-war aerial transport - many are still flying with Resistance forces today. Its muscular VTOL design allows operation from secluded outposts. This workhorse is exceptionally rugged, with multiple redundant systems and a production cost that would be inexcusable to today's UCM military planners.
The Lifthawk Dropship can carry Jacksons or all sorts of tanks in the Resistance army. They can also be fielded as the Troopship variant which trades that capacity for a big bay full of infantry. Both Lifthawks come equipped with Missile Pods which have Penetrative making them even more deadly. The Barrel Bomber is a brutal addition to any army with it being equipped with Frag Barrel, Goliath Bomb and Missile Pods it is ready to rain havoc in any situation. 

Contains 1 multi-part resin miniature with parts to make either a Lifthawk Dropship, Lifthawk Troopship or the Barrel Bomber. 
Resin miniatures supplied unpainted and unassembled. This kit will require cleaning and assembly, and could need some small holes filled. Any miniatures or scenery are shown for scale only and not included.