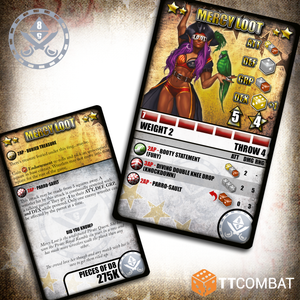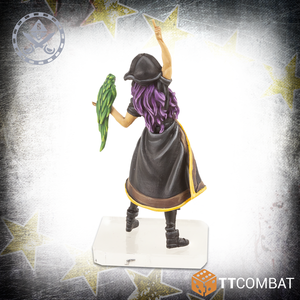 Mercy Loot is the undisputed Pirate Queen. She has won the Pirate Royale six years in a row and has made more wrestlers walk the plank than any other. The crowd love her though, and any match with her is sure to get them riled up.
This Pirate wrestler is as fierce in the ring as she is on the high seas. Bringing to the ring a large range of moves that allows Mercy to adapt to all situations. The Booty Statment grapples the enemy and then Fury lets you lay into them with Brawl attacks.
The Diving Double Knee Drop can deal incredible damage and Knockdown the toughest wrestlers and with the correct setup it can KO a wrestler in one turn! Mercy's final move comes from her trusty Parrot who will pester a wrestler, throwing them of their game. 
Buried treasure is regularly seen when Mercy is in the ring and it makes her a fan favourite, finding a large pile of shiny gold would please anyone. 
Contains 1 resin multi-part miniature with square acrylic base.

Resin miniature supplied unpainted and unassembled. This kit will require cleaning and assembly, and could need some small holes filled. Note that clear acrylic bases have a peelable protective film. Miniatures supplied with square bases.