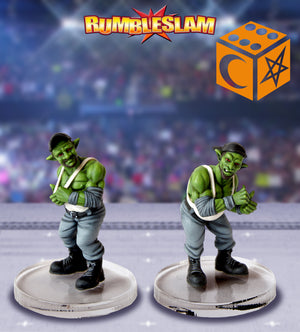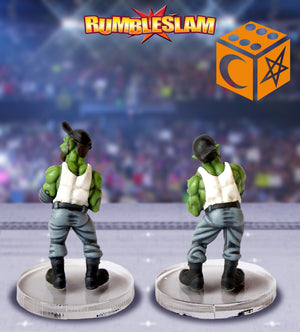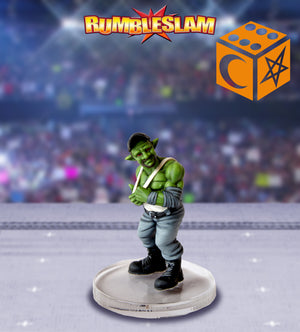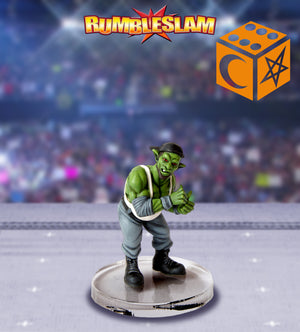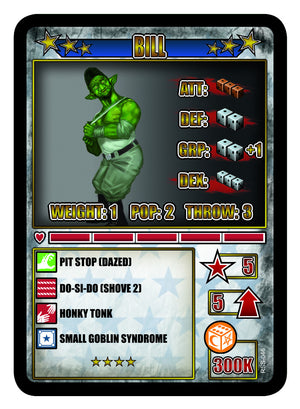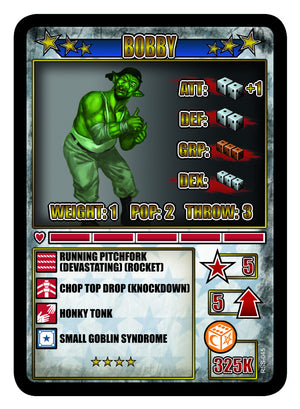 "Growing up in almost complete solitude from the rest of the world, the Nobgoblins tended their land with a peace that their kind seldom found. They might never have become wrestlers if not for a lord bulldozing their farm to establish his own holiday park away from the hustle and bustle of the city. Bill and Bobby didn't like that, they didn't like it at all. They tore the place apart and left the guards in one large heap for the fancy man to find. The lord arrived at their shack the next morning, but strangely he offered them a job. He worked for Rolling Bones, and offered them a ludicrous sum of money to fight in the ring. In a rare bout of intellect they agreed and have enjoyed causing chaos night after night!"
Why take a regular superstar when you can take two much smaller superstars instead?
Good question, reader!
Bobby and Bill aren't just any goblins. For a start, their stats are a lot more reliable, and have good chances to deliver those important Beatdowns. Those stats aren't the end of it though, as the Small Goblin Syndrome Passive Ability makes them better at hurting anyone bigger than them!
Bobby has the king of all Rope Abilities. Running Pitchfork can move across the entire ring, and when it hits, it hits everything in base contact! Bill on the other hand lacks a Turnbuckle Ability, but makes up for it with a decent Grapple Ability and Rope Ability, of which he can do BOTH in a single activation, with AP to spare!
Finally, Honky Tonk is their Tag Ability. The Nobgoblins get together to play a terrible tune that'll make their opponents dizzy!
Coming from Rolling Bones, the Nobgoblins fit in with a Green Bruisers team, where their scrappy nature and unpredictability make them right at home. They're also good with the Raging Beasts, where their high AP and MP means you can get them where they need to be, softening up the opponent for the hard hitters to move in.
Two resin miniatures supplied unpainted and unassembled with unique character profile cards and clear acrylic bases. Note that clear acrylic bases may have a coloured peelable protective film. Miniatures supplied with square bases.