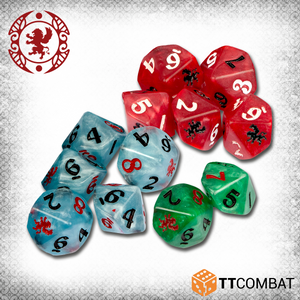 Okay, so my Plague Doctor has 6 Life Points left. He's used 3 Will Points, and just used a Command Point to give my Warden an Action Point. Ummmm...
With Life Points, Will Points, and Command Points, it's easy to lose track of your characters in Carnevale - especially in bigger games!
If that's you, then these Quick Play Dice answer your call for aid. This pack contains 12 ten-sided dice; 5 in red (for Life Points, 5 in blue (for Will Points), and 2 in green (for those elusive Command Points). Each number is delicately etched on, with the Carnevale lion taking the place of the 10. Not only that, but the 7, 8, 9 and lion are filled in a complementary colour, making spotting Aces easier than ever!
Simply pop them on your character's profile sheet and count down (or up if you're one of those strange people) throughout the game.