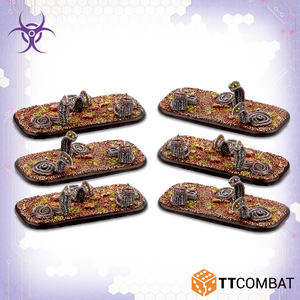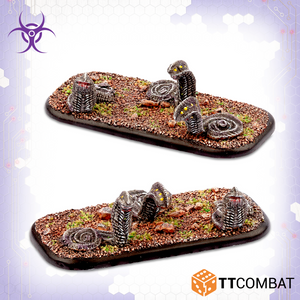 The Razorworm is a merciless predator, a terror of dark places and a living nightmare in chitin, flesh and claws. As a particularly virulent life form, the Scourge maintain breeding stock of these voracious aliens for use as hosts.
Razorworms. Even the name brings terror! They're giant, spiky worms that can get anywhere and can eat a human whole. What's not to love? Although they're not going to be claiming Objectives any time soon, these massive beasts can munch through the most heavily armoured enemy infantry, or - if you run out of targets - even take on light vehicles!
Contains 18 single-piece resin miniatures with 6 plastic bases to make 6 units.
Resin miniatures supplied unpainted and unassembled. This kit will require cleaning and assembly, and could need some small holes filled. Any miniatures or scenery are shown for scale only and not included.