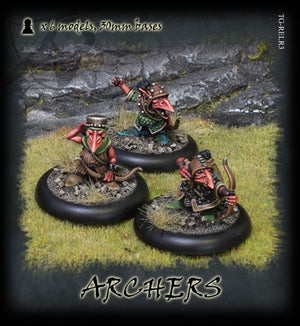 The bows crafted by the Ridend are not as ornately designed as the weapons used by the C'thu, nor do their arrows posses the hitting power of weapons used by the Britanans or Nuem. Despite their shortcomings though they are a vital part of any successful Ridendean army and are a common sight on the battlefields of Relicia. Individually the average archer might struggle to wound his target with a single volley but in a group that is focused on one target his hitting power might increase tenfold. Combining all their efforts to attack a single foe in a deadly hail of arrows is a proven tactic that is rarely unsuccessful as it becomes nigh on impossible for even the most alert opponent to dodge or block so many simultaneous strikes.
The role of the archer on the battlefield is to support and close quarter conflict should be left to those wearing the thickest armour. In close combat the Archers are weak and helpless and will usually fall easily when challenged by superior enemies, in all honesty it is much wiser for them to flee if possible than to fight a battle they have no chance of winning.
Miniatures require assembly and painting. Painting materials are not included. Not suitable for children under 3 years due to small parts and pointed components.