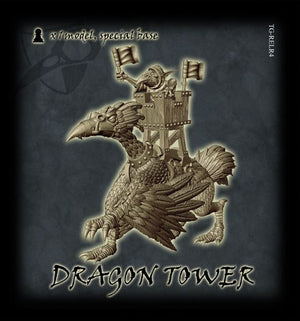 In battle, brave Men-at-arms sit atop these lumbering beasts in simple towers constructed of wood and iron. From their elevated positions they are able to survey the battlefields with a much broader perspective that allows them to direct their comrades away from impending doom and advise them towards more fruitful paths of honour and glory.
An affinity towards Dragons and a virtue of selflessness is required by those who choose to ride in the towers. Their role is not as glorious as their peers on the ground and many of them will not even bother to carry a sword that they have no chance of drawing blood with. The need for discipline and control is essential in the effective deployment of Tower Dragons and only the most passive of the Dragons are chosen and trained for the duty, Dragons deemed too boisterous or aggressive for the role are employed elsewhere in more suitable roles within the armies of the Ridend.
Miniatures require assembly and painting. Painting materials are not included. Not suitable for children under 3 years due to small parts and pointed components. We recommend this product for experience gamers and modellers of 14 years and above.