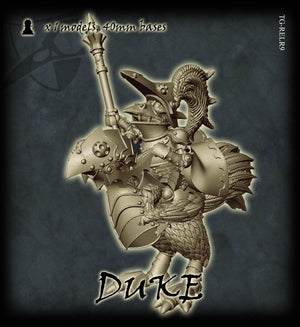 Cowards and heathens tremble in your boots as the glorious Dukes of the Ridend finally enter the fray!
Usually the bravest and most resilient members of the nobility, the often flamboyant Dukes are a glorious sight to behold both on and off the battlefield.  Even the pampered Kapolops they ride into battle are decorated with luxurious fineries and the finest plate armour to further perpetuate the significance of their masters status.
The mere presence of a Duke along the Ridendean battle line can be enough to inspire Knights to display such courageous acts of fortitude that a witness to such heroism might feel compelled to memorialize the moment by way of song or tale to ensure that the names of the Knights involved and the details of their noble deeds are not forgotten with time.
Pack contains 1 multipart resin miniature. Miniatures require assembly and painting.
Painting materials are not included. Not suitable for children under 3 years due to small parts and pointed components