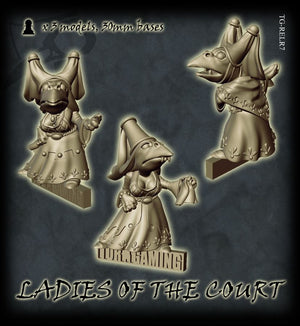 Ridend Ladies Of The Court
To the uninitiated the sight of an unarmed maiden would not usually be a cause for concern in regards to warfare; in actuality the renowned Ladies of the Court are of vital importance to any Ridendean battle plan and are much loved by their underlings for the protection and guidance they are able to provide. So great is the love given to them by the hordes that many honourable nobles will happily lay down their own lives to protect them from harm, if they should happen to carelessly stray into the path of danger.
Miniatures require assembly and painting. Painting materials are not included. Not suitable for children under 3 years due to small parts and pointed components. We recommend this product for experience gamers and modellers of 14 years and above.