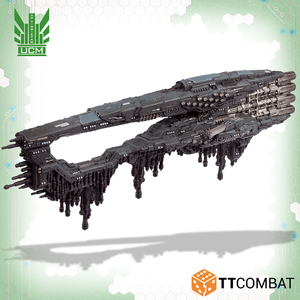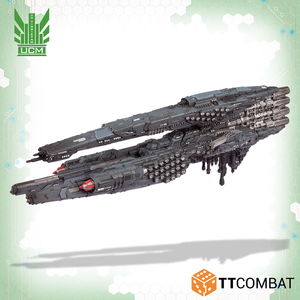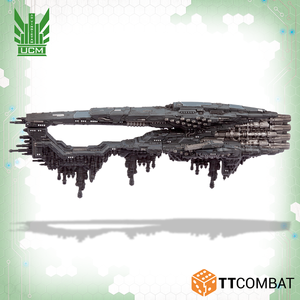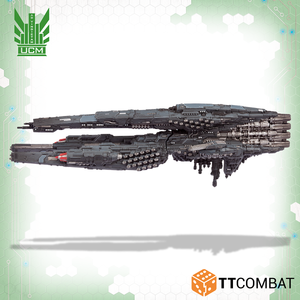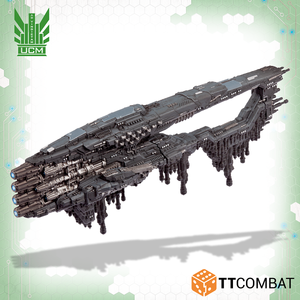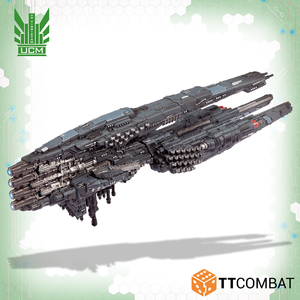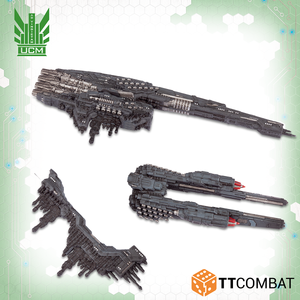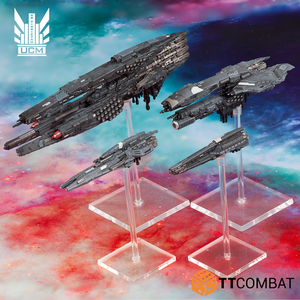 After several well publicised heroic kills made by old Havana torpedo destroyers during the Reconquest, the UCM Admiralty commissioned the Rome - a heavy torpedo Battlecruiser.

The Battlecruiser hull makes an excellent command and control ship, and the Venice is the best of its role. Built around an enormous and costly communications array, admirals use it to direct the flow of battle from safety.
This set contains 1 UCM Battlecruiser, able to be built as either a Rome or a Venice class.
Opening up some interesting new design space, these Battlecruisers offer something visually different to the rest of the UCM fleet. The Rome champions the triple prow first seen on the Kiev, and the Venice opts for an open prow, leaning into the antennae style in the rest of the range.
The Rome is your answer to a hard-as-nails escort. With 2 Heavy Torpedoes, even the largest ships can be split apart with ease, and its massive banks of point defence lasers aid their assistance to nearby ships. Meanwhile the Venice is your answer to a light command ship. House your Admiral in there to gain Command Card bonuses, and recycle those Command Cards into powerful additional bonuses to Battlegroup orders.
Contains 1 resin miniature and plastic Dropfleet Commander bases and flight stands.
Resin miniatures supplied unpainted and unassembled. This kit will require cleaning and assembly, and could need some small holes filled. Other ships and gaming mats are for scale purposes only.