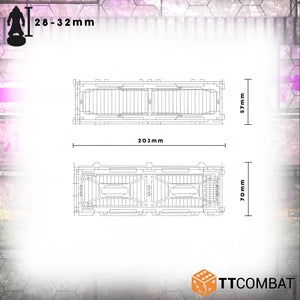 "I do love a crate, so many uses beyond just shipping things."
The SIR (Stackable Intermodal Resource) shipping crate can be found across the federation, whether it's stacked in the holds of spacecraft, hanging from the clamps of dropships, traversing the ELMOR networks on the trailers of bulk crawlers, or aiding in the setup of the Cashstack Colonies. With its built in ladders, the SIR crates are often pressed into service as makeshift scaffolds and walkways after being emptied of their goods. 
S.I.R Shipping Crates are stackable and functional with optional open or closed doors providing access ways or cover.
The S.I.R Shipping Crate kit is made from 3mm MDF. It is a great scenery kit to use in Sci-Fi skirmish games, will work perfectly with 28-32mm games and miniatures, and look great on any Sci-Fi inspired game board.
Model supplied unpainted and requires assembly. We advise using PVA glue for the best results. Some kits may need filing for a perfect fit - always dry fit your models first for best results. Any miniatures are for scale only and are not included.