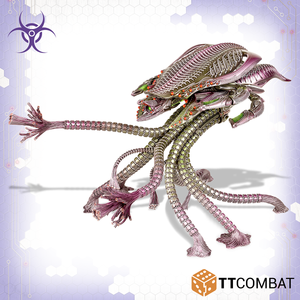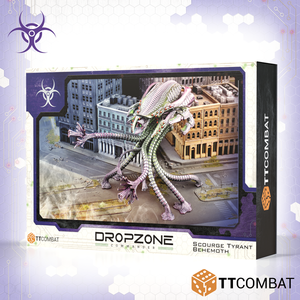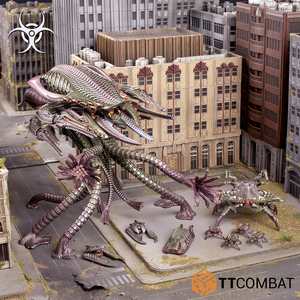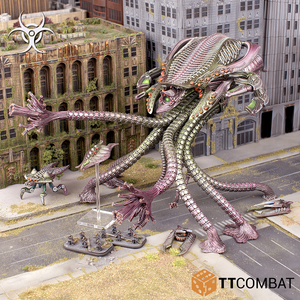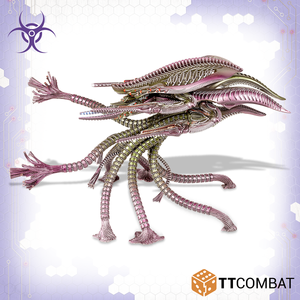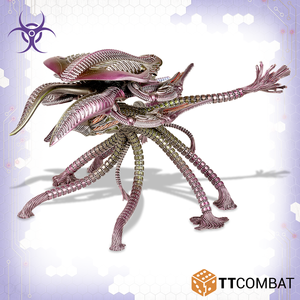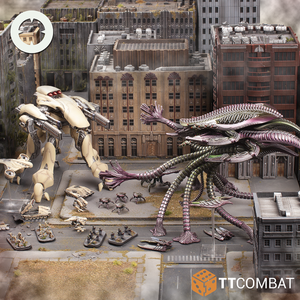 Scourge Behemoths are enormous, tentacled monstrosities, reckoned by many to be the most terrifying thing a soldier can face on the battlefield. Each of the Behemoth's tentacles splay into smaller and smaller filaments which can extend to considerable length, reaching into buildings and plucking out unfortunate soldiers hiding within.
The Scourge Behemoth is a true spectacle of a kit. Behemoths are the largest Dropzone Commander models you can get, and are incredibly impressive models.
Able to be built as either a Tyrant or Dictator pattern, this kit contains 48 total parts, with plenty of options for the two variants. The tentacles are fully poseable for
maximum customisation.
The Scourge Behemoth comes complete with various weapons. With no small guns in sight, it relies on its Seeker Lashes to deal with infantry and light vehicles. The Tyrant is fitted out with some classic Scourge weaponry, albeit on a much larger scale. Four individual Heavy Plasma Cannons increase both the range and damage of their smaller cousins, while the strange Bio-Cannon bathes an entire area, melting anyone that stays there for too long.
The Dictator's arms are instead loaded with the Static Accelerators - strange weapons that can tear through even the thickest armour, increasing their potency at closer ranges. Its Arc Maw is a terrifying perversion of arc technology, grounding its bursts in nearby targets, causing a chain reaction of energy to leap around the battlefield until stopped by the heaviest armour.
Contains 1 multi-part resin miniature with parts to assemble as either a Tyrant or Dictator Behemoth.
Resin miniatures supplied unpainted and unassembled. This kit will require cleaning and assembly, and could need some small holes filled. Any miniatures or scenery are shown for scale only and not included.
Please note that Behemoths are massive kits, and advanced modelling projects. Extra care, attention, and hobby skills will be required to assemble and paint them. Because of that, this kit it is only recommended for advanced modellers. Some parts will need heating and bending to fit perfectly straight and slight gaps might need filling.