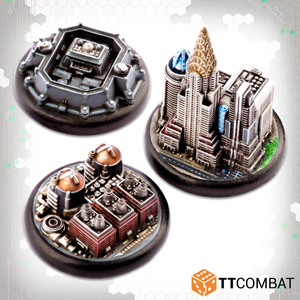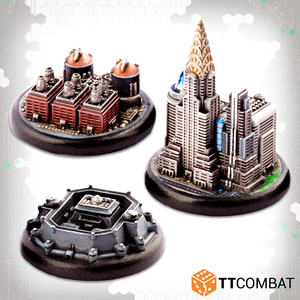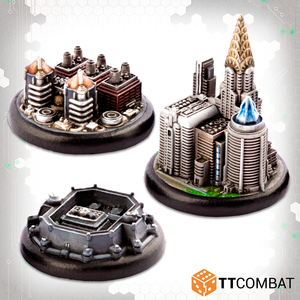 "Closing in on target. The city looks awful, even from up here. Get ready to launch ground assets. Take that city, men - show those Scourge who is in charge round here!"
This set contains a whole load of Sector tokens! In 3 different styles, these fully 3D tokens are a great upgrade to your cardboard ones.
There are three designs of token, in Industrial, Military, and Commercial style. The Industrial token has a series of factories, showcasing some futuristic industry. The Military design features a heavy-set bunker with vast walls. Finally the Commerical sector has towering skyscrapers, with all their individual floors shown off with inset detail - these really are ridiculously detailed for such tiny items!
Contains 28 sector tokens, with a 20mm diameter. There is a mix of tokens, usually 12 Industrial, 10 Military, and 6 Commerical, although contents may vary.
Resin miniatures supplied unpainted and unassembled. This kit will require cleaning and assembly, and could need some small holes filled. Other ships and gaming mats are for scale purposes only.