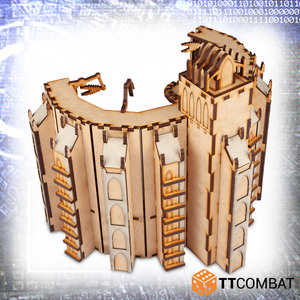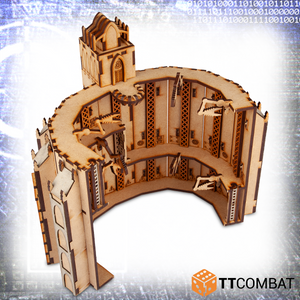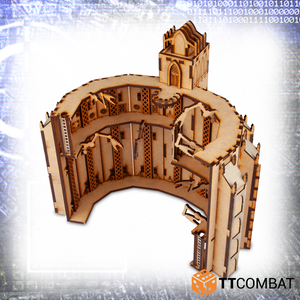 Giant stompy war machines don't really need moral support when undergoing maintenance, but that never stops anyone who believes hard enough that they do. Designed to cradle war machines while they undergo maintenance and repairs the Shrine Mechaninca features multiple inner levels with the optimal amount of safety equipment. The top level allows someone with a loud enough voice to yell sermons and offer prayers to the war machine below from the safety of a reinforced pulpit, or retire to a private tower to consult their maintenance manuals, surely filled with notes on the correct verses to chant when changing spark plugs.
Designed to block line of sight to even the biggest of war machines the Shrine Titanica works great with your games of Dropzone Commander or Adeptus Titanicus.

Made from 3mm MDF and 1mm greyboard, this kit is perfect for games of Adeptus Titanicus, but will work perfectly with any similar scale games.

Model supplied unpainted and requires assembly. We advise using PVA glue for the best results.
WIDTH
DEPTH
HEIGHT
Dimensions
19cm
12cm
17cm
Scale
10mm
Instructions
Download