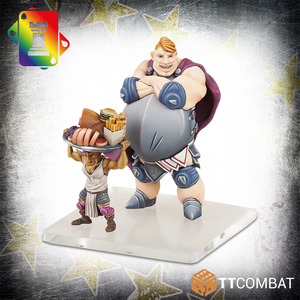 Sir Cumference is not only a champion competitive eater, he's also The Keep's Jazzletics instructor! Everyone's always brimming with motivation in his classes. That and snacks.
This Hungry Superstar is pushing the limits of a weight 3. With an impressive statline across the board and rocking 2 Gold in GRP means this wrestler can take on the best.
Sir Cumference also comes with a feast of tasty moves. Stomach Claw is a grapple that no-one wishes to be caught by, because fury means he'll come in with a secondary haymaker brawl. There is surprise from the crowd when Sir Cumference carries out his Gut Buster, a mighty rope ability that will Knockdown all wrestler no matter their size. 
Sir Cumference enjoys eating even more than wrestling, this passion can be seen in his support abilities. Gormand allows him to grant Endorsements to his team, and then his Vow of Charity helps keep the rest of the team in the fight with a little edible donations. The Crowd show support to this gluttonous knight, with his Crowd Pleaser Showered in Snacks which further restores stamina to all wrestlers nearby.
Contains 1 resin multi-part miniature with square acrylic base.

Resin miniature supplied unpainted and unassembled. This kit will require cleaning and assembly, and could need some small holes filled. Note that clear acrylic bases have a peelable protective film. Miniatures supplied with square bases.