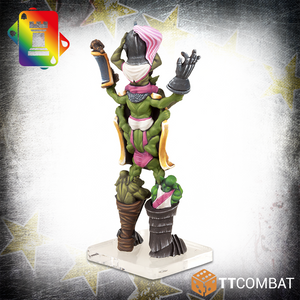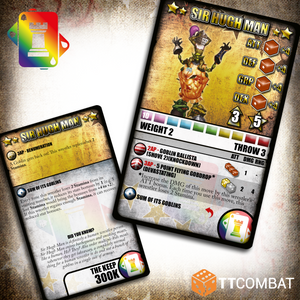 Sir Hugh Man is definitely a human wrestler person. Sir Hugh Man enjoys barbeques and smoking meats, like a human. He? They? Also order multiple kids meals whenever they get takeaway, a completely normal thing for a human wrestler to do and not a bunch of goblins in a single suit of armour.
Strength in numbers has never been more true than it is with Sir Hugh Man. Don't be fooled by the single Copper in this wrestler's Stats, the +4 means not many can stand up to this "Stacked" wrestler. 
This group of goblins, will Knockdown any they hit with the Goblin Ballista, a fearsome rope ability that will shove the toughest wrestlers across the ring. Nothing is more feared than the 5 Point Flying Gobdrop, this Devastating Turnbuckle ability can deal a massive 6 damage (if the goblins are fully stacked), making it one of the highest base Damage moves in the game. 
Being a stack of goblins does have its downsides, as for every 2 Stamina this wrestler takes, a gobbo falls off and that reduces the pluses to their? It's? stats. Not too much to fear though, because with a small amount of Crowd Pleaser Support a goblin gets back on a replenishes 2 Stamina. 
Contains 1 resin multi-part miniature with square acrylic base.

Resin miniature supplied unpainted and unassembled. This kit will require cleaning and assembly, and could need some small holes filled. Note that clear acrylic bases have a peelable protective film. Miniatures supplied with square bases.