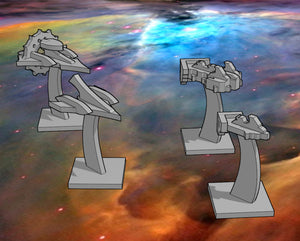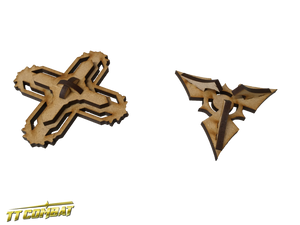 Space Swarm: First Contact Expansion Set
First Contact is the first expansion set for Space Swarm and introduces two new fleets for you to play. Use either the ephemeral Wardens and phase through terrain, or slam into your opponents ships as the Republik, blasting your would be foes at point blank range.
Space Swarm is a fast paced game of miniature spaceship combat that sets 2 players against each other in an easy to learn, quick to play tabletop game!
With rules that are designed to be simple and easy to learn, out-shoot, outmaneuver, and outnumber your opponents to secure victory. Use nimble but fragile Frigates, sturdy Cruisers, or powerful but slow Battleships.
Play with just the Expansion Set, or use multiple sets to play even bigger games, the Expansion Set provides you with an exciting expansion to Space Swarm and includes the range ruler, tokens, and 24 un-assembled ship miniatures (12 Republik, 12 Warden) as well as ship stats and new game types for you to play. This game set is made from 3mm MDF and requires the full rules(found below) to play.
Space Swarm: First Contact rules can be found here