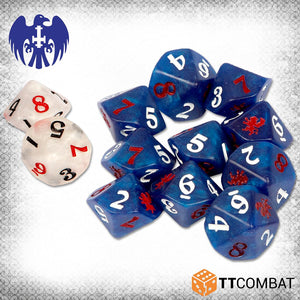 The mysterious Strigoi have come to Venice, taking residence in the island cemetery of San Michele. At night they cross to Venice proper, abducting some, and leaving others drained of their blood.
However, the surreptitious invasion of Vlad Dracula and his Strigoi can't happen without a little luck, and that's where these dice come in!
This pack contains 12 ten-sided dice; 10 in Strigoi midnight blue, and 2 Destiny dice in white. Each number is delicately etched on, with the Carnevale lion taking the place of the 10. Not only that, but the 7, 8, 9 and lion are filled in a complementary colour, making spotting Aces easier than ever!