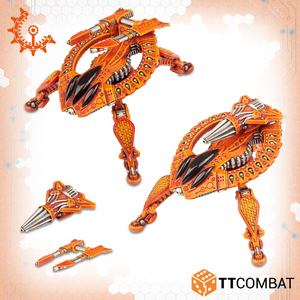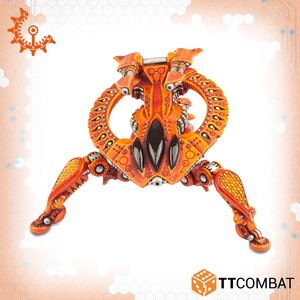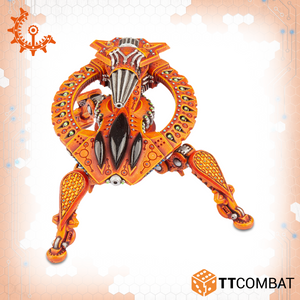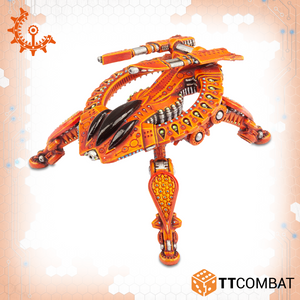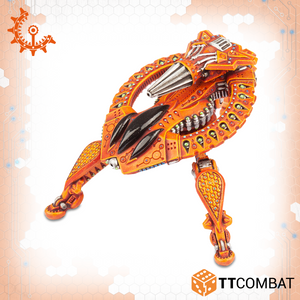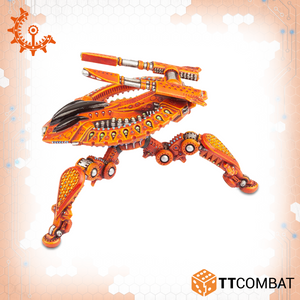 Battlewalkers are smaller, more agile versions of the towering Warstriders. They feature anti-grav assistors and clamps on their legs and feet, allowing them to climb sheer surfaces to attack from above! These factors - coupled with increased survivability over most Shaltari grav-tanks - makes Battlewalkers highly popular with less subtle Warchiefs who would prefer to crush their opponents than out-manoeuvre them.

The Tarantula's primary armament is the highly advanced Gravatic Magnifier (also known simply as the Grav-Cannon). This weapon delivers crushing force to anything with mass - the larger and heavier the target, the more devastating its effect! 

The Birdeater is an anti-air Battlewalkers, armed with the familiar and lethal twin ion-cannon. It often employs its climbing abilities to gain a commanding view of the battlefield - a highly useful ability for an anti-air unit. Since it is less agile than the Kukri, it is better suited to more static defensive roles, where its superior survivability makes it a favourite of the Shaltari Warchiefs who favour heavier units.
The Battlewalker is a ubiquitous chassis in a Shaltari army, particularly if you like your units to be able to take a bit of punishment. With Armour 13 and 2 Damage Points, this is one walker that won't quit - and that's if you get through its standard Shaltari 5+ Passive save. Battlewalkers also have the unique ability to climb scenery pieces, getting to the top of a structure with no problem, able to make the best use of great firing lines.
A Tarantula is a Standard choice in a Shaltari army, so you can take loads of them! Its Gravity Cannon is Energy 11 and has Devastator-2 against Tanks and Walkers, which already makes it a very useful weapon. However, the the bigger the target, the more gravity there is on it (it's science), so anything with the Large special rule gets hit with Devastator-3 instead!

Meanwhile the Birdeater variant swaps its main armament for the classic Twin Ion Cannons. Equally as good at anti-air firepower as its Kukri cousin, the Birdeater provides an extremely stable chassis for your AA squad. These walkers will be particular thorns in the side of your opponents!
Contains 2 resin miniatures with a choice to make 2 Tarantulas or 2 Birdeaters. These miniatures are highly detailed, approximately 50mm in length.
Resin miniatures supplied unpainted and unassembled. This kit will require cleaning and assembly, and could need some small holes filled.