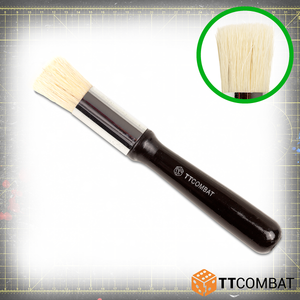 Terrain - Texturing Brush
Flat colours are passé, get some texture on there!
The Terrain - Texturing Brush is the brush you want for adding a little lived-in feel to your kits. If you want your MDF scenery to look a bit more three-dimensional, use this to add some quick and easy random texturing to large areas of your kits.
TTCombat Paint Brushes are precision tools, made by wargamers, for wargamers. The Terrain range contains brushes that are specially designed for painting scenery. They're hard-wearing, and made from a variety of materials for the most consistent results. This brush is made with boar hair for stiff bristles.