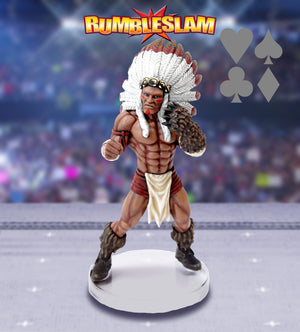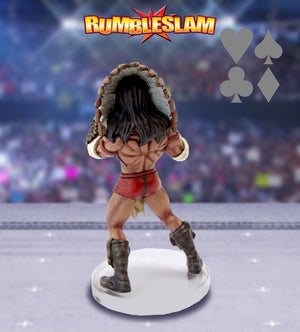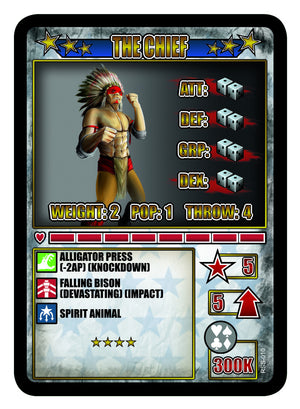 "Everybody is said to have a spirit animal: a creature who guides and steers them towards the right choices in life. It isn't uncommon for people to find their animal, but it is very rare for that creature to manifest on the person! Since an early age, The Chief has been able to manifest and utilise the abilities of his spirit animals; the mighty bear, the swift eagle and the relentless coyote."

 
On the surface, The Chief may not look like much. But I challenge you to find a better wrestler that has 5AP and 5MP for such a good price.
The real draw for The Chief is his array of Spirit Animal bonuses. With three to choose from, each offers a stat-boosting ability for that round, meaning you can power him up for the task at hand. And if he passes his Crowd Pleaser, he gets to pick 2 different animals like some kind of weird chimera!
The Chief is a Free Agent, meaning any team can take him without losing their sponsorship bonus. He works best in an all or nothing kind of team such as The Twisted Shadows or Green Bruisers where his balanced skills get the most use. With no glaring weaknesses and the ability to change roles depending on the situation, he's a great Superstar for beginners.
Resin miniature supplied unpainted and unassembled with a unique character profile card and clear acrylic base. Note that clear acrylic bases may have a coloured peelable protective film. Miniatures supplied with square bases.