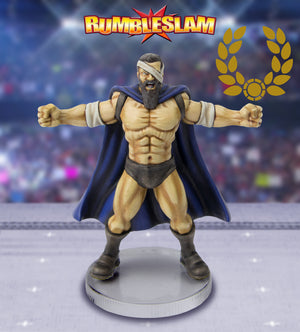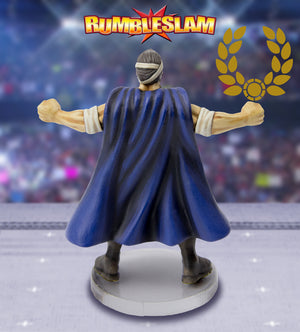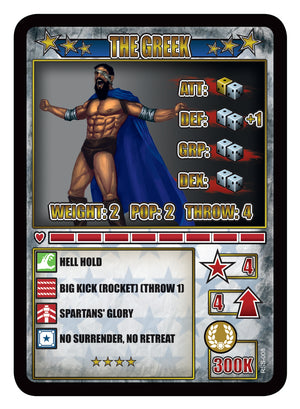 "Where most men might shy from adversity, this superstar yearns for it. The Greek is a fierce fighter determined to battle foes when the odds are well and truly stacked against him. Tenacity given form, he will accept any and all matches. In fact, during an interview he declared his intent to take on an entire casino. The audience jeered and laughed at his statement but were met with a stoic expression of self-confidence. He has yet to receive his match, but barely a fight goes by without him shouting his challenge!"
THIS! IS! RUMBLESLAM!
The Greek enters the ring! He's a solid all-rounder with some incredibly powerful abilities, and makes a great addition to any Kaiser's Palace team.
Hell Hold reduces enemy MP to 0, and Big Kick can fly all the way across the ring before booting an opponent out! And don't even think about trying to throw The Greek from the ring, as No Surrender, No Retreat means he's rolling 3 Gold dice to save himself!
Resin miniature supplied unpainted and unassembled with a unique character profile card and clear acrylic base. Note that clear acrylic bases may have a coloured peelable protective film. Miniatures supplied with square bases.