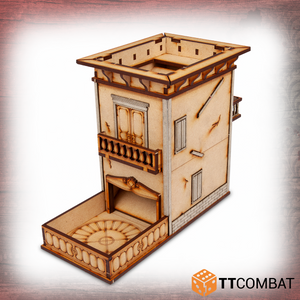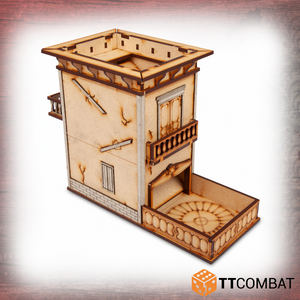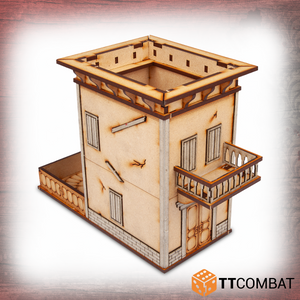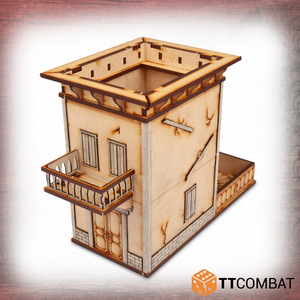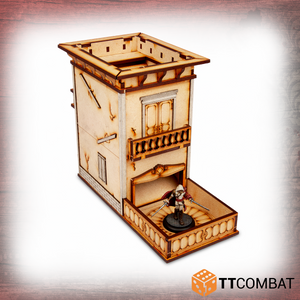 Gambling is a popular pastime in Venice. Some would say even being in the city is dicing with death.
A favoured haunt of gambling nobles, this particular house doubles as a handy dice tower! No longer are you reduced to throwing dice around your models, off tables, and into the ether, never to be seen again. Now you can safely roll dice in the comfort of their own, small home.
The Venetian Dice Tower makes a great addition to your games of Carnevale, providing both usable scenery and a safe space to roll dice, thanks to its lipped roof, balcony, and fence to keep your dice contained.
Contains 1 Dice tower and 1 separate balcony.
Made from 3mm MDF and 1mm greyboard, the Venetian Dice Tower is great scenery to use on the tabletop for Carnevale and other 28-32mm games. Designed to work with D6 up to 16mm in size and D10 up to 20mm in diameter.
Model supplied unpainted and requires assembly. We advise using PVA glue for the best results. Miniature not included and for scale only.
WIDTH
DEPTH
HEIGHT
Dimensions
17cm
8cm
14.5cm
Scale
28-32mm
Instructions
Download