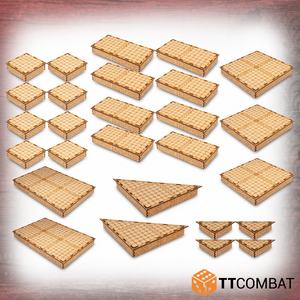 "Look, Santina. Everything the Rent light touches is our kingdom."

"But what about that shadowy place?"

"That is San Canciano. You must never go there!"
This massive kit contains enough street sections to make a full 3'x3' board (with space for canals)! We based the street sections on the cardboard tiles found in the Carnevale 2-Player Box, which makes this a great upgrade to those tiles.
This set contains:
8 small street sections
8 medium street sections
3 large street sections
2 plaza street sections
2 large corner street sections
4 small corner street sections
The set also contains a few decorative extras including drain covers and drainage pipes. These optional pieces add a little extra detail to your streets.
The Venetian Quarter Streets are made from 3mm MDF. They are great pieces of scenery to use for Carnevale and will work perfectly with other 28-32mm games.
Kit supplied unpainted and requires assembly. We advise using PVA glue for the best results. Any miniatures are for scale only and not included.
WIDTH
DEPTH
HEIGHT
Dimensions

10.1cm

10.1cm

3cm

20.2cm

10.1cm

3cm

20.2cm

20.2cm

3cm

30.3cm

20.2cm

3cm

Instructions
Download