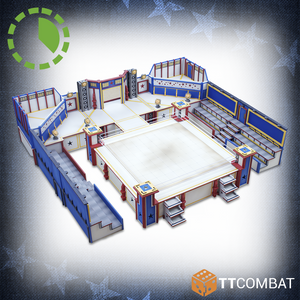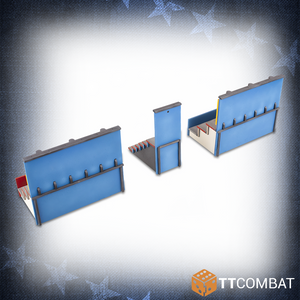 Tonight, The event you've all been waiting for... The RUMBLESLAM Arena!

This is the perfect bundle to create your own RUMBLESLAM Arena. Spanning a 2ftx2ft space with enough room for cards at the front.

The corner towers can either be used as dice boxes or VIP box seats for your favourite wrestlers. The entranceway is wide enough for a phone screen to prove an animated backdrop to your teams entrance.
Consisting of a RUMBLESLAM Stage, 2x Bleachers and the RUMBLESLAM Superstar Ring, this bundle contains everything you will need to build a 2ftx2ft RUMBLESLAM Arena board.
This kit is made from 3mm MDF.
Model supplied unpainted and requires assembly. We advise using PVA glue for the best results. Any miniatures and neoprene mats are for scale only and not included.
Paints Used: Poster boy blue, Troll skin blue, EAA blue, Mummified khaki, Phantom ivory, Capo red, Viscera red, Bloody rites, Boo yeah orange, Spotlight yellow, Khepri sunrise yellow, Black, White, Gunmetal, Supernova chrome, Ospedale grey, Ostrich feather grey.